President of the SAO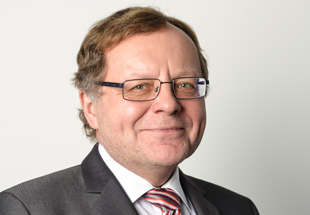 Ing. Miloslav Kala
born: 3 August 1963
Education:
2001 - Structural Funds of EU;
2000 - Marketing;
1999 - Controlling, Crisis Management;
1982 - 1988 Faculty of Mechanical Engineering at the Brno University of Technology.
Work Experience:
since May 2017 first Vice-president of EUROSAI
since 2013 President of the Supreme Audit Office;
2008 - 2013 Vice-president of the Supreme Audit Office;
2004 - 2007 Advisory committee member of the Czech Consolidation Agency;
2003 - 2004 Managing board member of the Railway infrastructure Administration;
2002 - 2008 Member of Chamber of Deputies of the Parliament of the Czech Republic (chairman of the Mandate and Immunity Committee; member of the Committee on Economic Affairs);
2000 - 2002 Chief magistrate in Blansko;
1996 - 2000 Entrepreneur (economy and organizational consultant);
1988 - 1996 Adamov Machine Works (design engineer, research and development manager), ADAST-SYSTEMS corporation (managing director and member of the board).
Works published:
published a book "90% NAŠTVANÁ DEMOKRACIE" (90% Upset Democracy);
wrote articles in professional journals and daily press;
lectures at the Masaryk University in Brno;
international conferences and seminars: 2005 (in Stockholm), 2006 (in Rome), 2008 (in Budapest).
Personal information:
Marital status: Married;
Children: One daughter, two sons.